BEER... PUBS...

Welcome to beerintheevening.com
Officially the UK's biggest and busiest pub and bar guide!
Now listing over 43,500 venues, it's the perfect place to look for somewhere to eat, drink and socialise!
Looking for somewhere to go?
Get started here...
Licensee or venue operator? Your venue not listed or want to manage your listing?
Click here...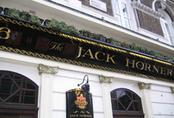 Random pub of the day for 1-4-2015:
Jack Horner, Tottenham Court Road
234 Tottenham Court Road, London, W1T 7QJ
Latest comment about the Jack Horner:
What I like about the last review is that it's just so up to date
What you've been saying about pubs:
Name: The Rifleman Inn
Location: Epsom

Changing the topic to something a tad lighter than murder( last two posts) tho' friendly fire stories are so heart warming,the Rifleman is getting ...more


Name: The Red Lion
Location: Chipping Norton

Good well kept ales available. Hook Norton beers. Tried the Hook Norton Hooky, very tasty. Small traditional pub dating ...more


Name: The Albion
Location: Farnham

I've been in a lot of boozers in my time but I do believe that this is the most immaculate looking pub I've ever frequented. For cleanliness and ...more


Name: The Narrow Boat
Location: Skipton

Great selection of real and other ales (especially continental beers served in authentic glasses) and six British draft ciders. Ales incude Black ...more


Name: The Beer Engine
Location: Skipton

Great microtubules. Five hand pumps. One blonde/pale ale and one dark beer, plus a still and fruit cider. The beers ...more

The only and best R&R place in central London. This is the kind of pub people came to visit England for in the 60s and 70s, to experience the ...more


Name: The Star Inn
Location: Woodstock

We arrived late in Woodstock on a Tuesday hoping for lunch. Other places in the town had closed since it was 2pm. The Star was unfazed however ...more


Name: The Grapes
Location: Limehouse

Absolutely brilliant! Great beer and lunch which was surprisingly good value. Would happily visit again and recommend to anyone.


Name: The Wentworth Arms
Location: Mile End

Being in London in early February of this year, I went to East London for an afternoon, got thirsty from walking, and stumbled upon the Wentworth ...more


Name: The Queens Head
Location: Limehouse

A lovely pub in an interesting setting. Friendly bar staff and a good pint of Youngs Bitter. Will visit again if in the area. The pub also has history in that HM The QueenMother visited.

As rated by beerintheevening.com users:
1
Name: The Feathers Hotel - Location: Ludlow
Address: The Bull Ring, Ludlow, Shropshire, SY8 1AA
Rating:
8.6/10
2
Name: The Windsor Castle Inn - Location: Lye
Address: 7 Stourbridge Road, Lye, Stourbridge, West Midlands, DY9 7DG
Rating:
7.9/10
3
Name: The Rose and Crown - Location: Huish Episcopi
Address: Huish Episcopi, Langport, Somerset, TA10 9QT
Rating:
7.9/10
4
Name: The Three Tuns - Location: Bishops Castle
Address: Salop Street, Bishops Castle, Shropshire, SY9 5BW
Rating:
7.9/10
5
Name: The Blythe Hill Tavern - Location: Forest Hill
Address: 319 Stanstead Road, London, SE23 1JB
Rating:
7.9/10
6
Name: The Fernandes Brewery Tap and Bier Keller - Location: Wakefield
Address: The Old Malthouse, Avison Yard, Wakefield, West Yorkshire, WF1 1UA
Rating:
7.9/10
7
Name: The Station Inn - Location: Whitby
Address: New Quay Road, Whitby, North Yorkshire, YO21 1DH
Rating:
7.8/10
8
Name: The Old Poet's Corner - Location: Ashover
Address: Butts Rd, Ashover, Chesterfield, Derbyshire, S45 0EW
Rating:
7.8/10
9
Name: The Lamplighter - Location: St Helier
Address: 9 Mulcaster Street, St Helier, Jersey, JE2 3NJ
Rating:
7.8/10
10
Name: The Halfway House - Location: Pitney
Address: Pitney Hill, Langport, Somerset, TA10 9AB
Rating:
7.8/10
11
Name: The Narrow Boat - Location: Skipton
Address: 38, Victoria St, Skipton, North Yorkshire, BD23 1JE
Rating:
7.7/10
12
Name: The Coopers Tavern - Location: Burton-Upon-Trent
Address: 43 Cross Street, Burton-Upon-Trent, Staffordshire, DE14 1EG
Rating:
7.7/10
13
Name: The Cherub Inn - Location: Dartmouth
Address: 13 Higher Street, Dartmouth, Devon, TQ6 9RB
Rating:
7.7/10
14
Name: The Kings Arms - Location: Tring
Address: King St, Tring, Hertfordshire, HP23 6BE
Rating:
7.7/10
15
Name: The Nags Head - Location: Great Malvern
Address: 21, Bank Street, Great Malvern, Worcestershire, WR14 2JG
Rating:
7.7/10
16
Name: The Castle Inn - Location: West Lulworth
Address: Main Road, West Lulworth, Wareham, Dorset, BH20 5RN
Rating:
7.7/10
17
Name: The Orchard Inn - Location: Bristol
Address: 12 Hanover Place, Bristol, Bristol, BS1 6XT
Rating:
7.7/10
18
Name: Anvil - Location: Wigan
Address: Dorning Street, Wigan, Lancashire, WN1 1ND
Rating:
7.6/10
19
Name: Plough - Location: Worcester
Address: 23 Fish Street, Worcester, Worcestershire, WR1 2HN
Rating:
7.6/10
20
Name: The Half Moon - Location: Hitchin
Address: 57, Queen St, Hitchin, Hertfordshire, SG4 9TZ
Rating:
7.6/10
Recently added
The latest new pubs added by the BITE team:
Name: The Cosy Club - Location: Taunton
Address: 11 Corporation Street, Taunton, Somerset, TA1 4AJ
Rating:
6.0/10
Name: The Green Hops Real Ale Bar - Location: Billingham
Address: 55 The Green, Billingham, County Durham, TS23 1EW
Rating:
no rating
Name: The Courtyard - Location: Heswall
Address: 3 Pensby Road, Heswall, Wirral, Merseyside, CH60 7RA
Rating:
4.5/10
Name: Curio Lounge - Location: Stroud
Address: 9-11 Kings Street, Stroud, Gloucestershire, GL5 3BX
Rating:
6.0/10
Name: The Barrel Drop - Location: Nottingham
Address: 7 Hurts Yard, Nottingham, Nottinghamshire, NG1 6JD
Rating:
no rating
Name: Junkyard - Location: Nottingham
Address: 12 Bridlesmith Walk, Nottingham, Nottinghamshire, NG1 2FZ
Rating:
no rating
Name: Pie and Ale - Location: Manchester
Address: Unit 1 and 2 The Hive, Lever Street, Northern Quarter, Manchester, Manchester, M1 1FN
Rating:
4.0/10
Name: Ship Inn - Location: Wolviston
Address: 50 High Street, Wolviston, County Durham, TS22 5JX
Rating:
4.0/10
Name: Bonzo Lounge - Location: Keynsham
Address: 8-9 Market Walk, Keynsham, Gloucestershire, BS31 1ED
Rating:
no rating
Name: Cultivo Lounge - Location: Letchworth Garden City
Address: 32 Leys Avenue, Letchworth Garden City, Hertfordshire, SG6 3EW
Rating:
no rating