BEER... PUBS...

Welcome to beerintheevening.com
Officially the UK's biggest and busiest pub and bar guide!
Now listing over 43,500 venues, it's the perfect place to look for somewhere to eat, drink and socialise!
Looking for somewhere to go?
Get started here...
Licensee or venue operator? Your venue not listed or want to manage your listing?
Click here...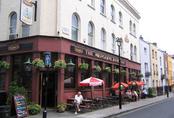 Random pub of the day for 27-4-2015:
Wargrave Arms, Marylebone
40-42 Brendon Street, Marylebone, London, W1H 5HE
Latest comment about the Wargrave Arms:
Ribs. Ribs. Ribs ribs ribs ribs ribs. Ribs.
What you've been saying about pubs:
Name: The Portmanor
Location: South Norwood

This pub has now closed, and the site has been sold for development.


Name: The White Hart
Location: Minster Lovell

Great atmosphere Saturday night just gone (25/04/2015), lovely bar staff, friendly locals, a decent pint and an excellent covers band playing, will most likely be back soon!


Name: Hop Beer Shop
Location: Chelmsford

Well worth a visit to try some local micro brew beers from the Chelmsford area .I


Name: Tamar Hotel
Location: Crownhill

I visited this pup on Saturday 25 April on the way to watch Argyle play football I travelled down with my nephew,Sean,Sean has learning ...more


Name: Last Orders
Location: Wallsend

Walked past a few days ago. Doesn't appear to have any real ale. Might have to up their game once the Wetherspoons opens across the road in a few weeks.


Name: Rosie Malones
Location: South Shields

Changed its name again to 'The Address'. On my last visit there was a fair selection of beers from the Martsons stable (Cumberland/Wychwood/Ringwood/Banks) on.


Name: The Golden Smog
Location: Stockton on Tees

Micro bar with four handles on, hidden down a small passageway off Stockton High Street. Well worth a visit if you're in the area.


Name: The Curfew
Location: Berwick upon Tweed

Micro bar hidden away behind the main street through a small passageway. Has four handles on with a variety of ales. Went to their beer festival a few weeks ago which was excellent.


Name: The Dolphin
Location: Tynemouth

Multi-room pub with timbered beams. Usually has three or four well kept ales on from local breweries. Does good Sunday lunches.


Name: The Eagle And Child
Location: Stow On The Wold

Now refurbished and opened as a part of the "Porch House" Hotel.

As rated by beerintheevening.com users:
1
Name: The Feathers Hotel - Location: Ludlow
Address: The Bull Ring, Ludlow, Shropshire, SY8 1AA
Rating:
8.4/10
2
Name: The Windsor Castle Inn - Location: Lye
Address: 7 Stourbridge Road, Lye, Stourbridge, West Midlands, DY9 7DG
Rating:
7.9/10
3
Name: The Rose and Crown - Location: Huish Episcopi
Address: Huish Episcopi, Langport, Somerset, TA10 9QT
Rating:
7.9/10
4
Name: The Three Tuns - Location: Bishops Castle
Address: Salop Street, Bishops Castle, Shropshire, SY9 5BW
Rating:
7.9/10
5
Name: The Blythe Hill Tavern - Location: Forest Hill
Address: 319 Stanstead Road, London, SE23 1JB
Rating:
7.9/10
6
Name: The Fernandes Brewery Tap and Bier Keller - Location: Wakefield
Address: The Old Malthouse, Avison Yard, Wakefield, West Yorkshire, WF1 1UA
Rating:
7.9/10
7
Name: The Queens - Location: Ludlow
Address: 113 Lower Galdeford, Ludlow, Shropshire, SY8 1RU
Rating:
7.8/10
8
Name: The Station Inn - Location: Whitby
Address: New Quay Road, Whitby, North Yorkshire, YO21 1DH
Rating:
7.8/10
9
Name: The Old Poet's Corner - Location: Ashover
Address: Butts Rd, Ashover, Chesterfield, Derbyshire, S45 0EW
Rating:
7.8/10
10
Name: The Lamplighter - Location: St Helier
Address: 9 Mulcaster Street, St Helier, Jersey, JE2 3NJ
Rating:
7.8/10
11
Name: The Halfway House - Location: Pitney
Address: Pitney Hill, Langport, Somerset, TA10 9AB
Rating:
7.8/10
12
Name: The Narrow Boat - Location: Skipton
Address: 38, Victoria St, Skipton, North Yorkshire, BD23 1JE
Rating:
7.7/10
13
Name: The Coopers Tavern - Location: Burton-Upon-Trent
Address: 43 Cross Street, Burton-Upon-Trent, Staffordshire, DE14 1EG
Rating:
7.7/10
14
Name: The Cherub Inn - Location: Dartmouth
Address: 13 Higher Street, Dartmouth, Devon, TQ6 9RB
Rating:
7.7/10
15
Name: The Kings Arms - Location: Tring
Address: King St, Tring, Hertfordshire, HP23 6BE
Rating:
7.7/10
16
Name: The Nags Head - Location: Great Malvern
Address: 21, Bank Street, Great Malvern, Worcestershire, WR14 2JG
Rating:
7.7/10
17
Name: The Castle Inn - Location: West Lulworth
Address: Main Road, West Lulworth, Wareham, Dorset, BH20 5RN
Rating:
7.7/10
18
Name: The Orchard Inn - Location: Bristol
Address: 12 Hanover Place, Bristol, Bristol, BS1 6XT
Rating:
7.7/10
19
Name: Anvil - Location: Wigan
Address: Dorning Street, Wigan, Lancashire, WN1 1ND
Rating:
7.6/10
20
Name: The Half Moon - Location: Hitchin
Address: 57, Queen St, Hitchin, Hertfordshire, SG4 9TZ
Rating:
7.6/10
Recently added
The latest new pubs added by the BITE team:
Name: The Cosy Club - Location: Taunton
Address: 11 Corporation Street, Taunton, Somerset, TA1 4AJ
Rating:
6.0/10
Name: The Green Hops Real Ale Bar - Location: Billingham
Address: 55 The Green, Billingham, County Durham, TS23 1EW
Rating:
no rating
Name: The Courtyard - Location: Heswall
Address: 3 Pensby Road, Heswall, Wirral, Merseyside, CH60 7RA
Rating:
4.5/10
Name: Curio Lounge - Location: Stroud
Address: 9-11 Kings Street, Stroud, Gloucestershire, GL5 3BX
Rating:
6.0/10
Name: The Barrel Drop - Location: Nottingham
Address: 7 Hurts Yard, Nottingham, Nottinghamshire, NG1 6JD
Rating:
no rating
Name: Junkyard - Location: Nottingham
Address: 12 Bridlesmith Walk, Nottingham, Nottinghamshire, NG1 2FZ
Rating:
no rating
Name: Pie and Ale - Location: Manchester
Address: Unit 1 and 2 The Hive, Lever Street, Northern Quarter, Manchester, Manchester, M1 1FN
Rating:
4.0/10
Name: Ship Inn - Location: Wolviston
Address: 50 High Street, Wolviston, County Durham, TS22 5JX
Rating:
4.0/10
Name: Bonzo Lounge - Location: Keynsham
Address: 8-9 Market Walk, Keynsham, Gloucestershire, BS31 1ED
Rating:
no rating
Name: Cultivo Lounge - Location: Letchworth Garden City
Address: 32 Leys Avenue, Letchworth Garden City, Hertfordshire, SG6 3EW
Rating:
no rating