BEER... PUBS...

Welcome to beerintheevening.com
Officially the UK's biggest and busiest pub and bar guide!
Now listing over 45,000 venues, it's the perfect place to look for somewhere to eat, drink and socialise! Looking for somewhere to go?
Get started here...
Licensee or venue operator? Your venue not listed or want to manage your listing?
Click here...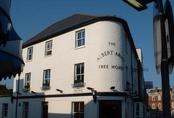 Random pub of the day for 11-12-2017:
Albert Arms, Esher
82 High Street, Esher, Surrey, KT10 9QS
Latest comment about the Albert Arms:
STILL closed. There is a gap in the market in this desert for a decent real ale pub, a gap that this pub used to fill. Someone see sense and take it over.
What you've been saying about pubs:
Name: The Maltings
Location: York

A very good range of real ciders on offer. Pennard and Cramps, two more, and Oliver's perry. Good beef pie and chips, too, and a jacket spud with vegan curry.


Name: The Ackhorne
Location: York

Nasty shock! After about 15 years of calling at the Ackhorne whenever in York, walked information to find no draft real cider sold any more. The ...more


Name: The Craven
Location: Skipton

Recently refurbished i believed. Quite a big place. The bar is straight on from the door, in an L shape. Two ales on- Thwaites original and ...more

A one doomed pub which isn't too no. It has posters of Irish writers, flags of Irish counties (or clans may be), Guinness, memorabilia to powers ...more


Name: Dyneley Arms
Location: Pool in Wharfedale

Sam Smith's pub on the corner of a busy junction. Overall the place us quite big with about 4 snug type areas (with a fire place in 3 of them) , ...more


Name: The Royal Oak Hotel
Location: Didsbury

When I visited Didsbury I would say that this was one of two favourite pubs (the station being the other). The place has a bar which serves all 4 ...more


Name: The Nelson
Location: Didsbury

Not sure when but this pub has been taken over by the craft union pub company. It had two ales on, doom bar and TT landlord. I didn't try either ...more


Name: The Station Hotel
Location: Didsbury

An older feeling pub, it has an Irish feel to it as well, definitely one of the guys serving, who also seemed to be in a managerial role at least, ...more


Name: The Village Inn
Location: Shanklin

A great looking pub. I really enjoyed myself here. I was here so I did not go outside into the beer garden except to have a quick look. There were ...more


Name: The Castle
Location: Sandown

I was on the island for the Beer & Buses weekend (14 & 15th October 2017) and luckily this pub was nearest to my hotel. In the Stables ...more

As rated by beerintheevening.com users:
1
Name: The Cuckoo Inn - Location: Hamptworth
Address: Hamptworth, Salisbury, Wiltshire, SP5 2DU
Rating:
8.4/10
2
Name: The Fleece Inn - Location: Bretforton
Address: The Cross, Bretforton, Evesham, Worcestershire, WR11 7JE
Rating:
8.4/10
3
Name: The Jolly Angler - Location: Manchester
Address: 47 Ducie Street, Ancoats, Manchester, M1 2JW
Rating:
8.1/10
4
Name: The Old Poet's Corner - Location: Ashover
Address: Butts Rd, Ashover, Chesterfield, Derbyshire, S45 0EW
Rating:
8.1/10
5
Name: The Old Fire House - Location: Exeter
Address: 50 New North Road, Exeter, Devon, EX4 4EP
Rating:
8.0/10
6
Name: The Admiral Benbow - Location: Penzance
Address: 46, Chapel St, Penzance, Cornwall, TR18 4AF
Rating:
8.0/10
7
Name: The Blythe Hill Tavern - Location: Forest Hill
Address: 319 Stanstead Road, London, SE23 1JB
Rating:
7.8/10
8
Name: The Lamplighter - Location: St Helier
Address: 9 Mulcaster Street, St Helier, Jersey, JE2 3NJ
Rating:
7.8/10
9
Name: The Snickleway Inn - Location: York
Address: 47, Goodramgate, York, North Yorkshire, YO1 7LS
Rating:
7.8/10
10
Name: The Rose and Crown - Location: Huish Episcopi
Address: Huish Episcopi, Langport, Somerset, TA10 9QT
Rating:
7.7/10
11
Name: The Cherub Inn - Location: Dartmouth
Address: 13 Higher Street, Dartmouth, Devon, TQ6 9RB
Rating:
7.7/10
12
Name: The Castle Inn - Location: West Lulworth
Address: Main Road, West Lulworth, Wareham, Dorset, BH20 5RN
Rating:
7.7/10
13
Name: Sheffield Tap - Location: Sheffield
Address: Platform 1, Sheffield Station, Sheaf Street, Sheffield, South Yorkshire, S1 2BP
Rating:
7.7/10
14
Name: The Kings Arms - Location: Tring
Address: King St, Tring, Hertfordshire, HP23 6BE
Rating:
7.7/10
15
Name: The Fox and Goose - Location: Hebden Bridge
Address: 9 Heptonstall Road, Hebden Bridge, West Yorkshire, HX7 6AZ
Rating:
7.7/10
16
Name: The Station Inn - Location: Whitby
Address: New Quay Road, Whitby, North Yorkshire, YO21 1DH
Rating:
7.7/10
17
Name: Trafford Arms - Location: Norwich
Address: 61 Grove Road, Norwich, Norfolk, NR1 3RL
Rating:
7.7/10
18
Name: The Golden Rule - Location: Ambleside
Address: Smithy Brow, Ambleside, Cumbria, LA22 9AS
Rating:
7.7/10
19
Name: The Narrow Boat - Location: Skipton
Address: 38, Victoria St, Skipton, North Yorkshire, BD23 1JE
Rating:
7.7/10
20
Name: The Brewery Tap - Location: Chester
Address: 52-54 Lower Bridge Street, Chester, Cheshire, CH1 1RU
Rating:
7.7/10
Recently added
The latest new pubs added by the BITE team:
Name: The Paul Pry - Location: Worcester
Address: 6 The Butts, Worcester, Worcestershire, WR1 3PA
Rating:
5.8/10
Name: The Talbot Inn - Location: Welshpool
Address: 16 High Street, Welshpool, Powys, SY21 7JP
Rating:
4.8/10
Name: The Draft House - Location: Milton Keynes
Address: 316 Midsummer Boulevard, Milton Keynes, Buckinghamshire, MK9 2EA
Rating:
no rating
Name: The Dukes Head - Location: Hythe
Address: 9 Dymchurch Road, Hythe, Kent, CT21 6JB
Rating:
1.0/10
Name: The Hope - Location: Hythe
Address: 82 Stade Street, Hythe, Kent, CT21 6DA
Rating:
no rating
Name: The Harewood End Inn - Location: Harewood End
Address: A49, Harewood End, Herefordshire, HR2 8JT
Rating:
no rating
Name: The Hop - Location: Saltaire
Address: 199 Bingley Road, Saltaire, Shipley, West Yorkshire, BD18 4DH
Rating:
no rating
Name: Mr Foggs Tavern - Location: Leicester Square
Address: 58 St. Martins Lane, Leicester Square, London, WC2N 4EA
Rating:
no rating
Name: Forty Eight - Location: Bristol
Address: 48 Park Street, Bristol, Bristol, BS1 5JG
Rating:
no rating
Name: The Hopsmiths - Location: Crouch Hill
Address: 29 Crouch Hill, Crouch Hill, London, N4 4AP
Rating:
no rating