BEER... PUBS...

Welcome to beerintheevening.com
Officially the UK's biggest and busiest pub and bar guide!
Now listing over 43,500 venues, it's the perfect place to look for somewhere to eat, drink and socialise!
Looking for somewhere to go?
Get started here...
Licensee or venue operator? Your venue not listed or want to manage your listing?
Click here...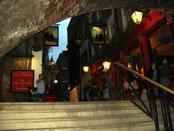 Random pub of the day for 30-5-2015:
Ship and Shovell, Charing Cross
1-3 Craven Passage, Charing Cross, London, WC2N 5PH
Latest comment about the Ship and Shovell:
Ship and Shovell, The Strand: A pub of two halves - quite literally. The Charing Cross side is the larger, more open and redder of the two edifices, and maybe the more sociable too. Embankment side is more intimate, riven with snugs, and has one of the smallest bars I've ever had the privilege of being served from; there is an upstairs, however, so it terms of floor-space maybe there's not so much to choose between them. And then there's the space that separates these respective enclaves – Craven Passage – a sort of physical intermediary where people gather around upended barrels to drink, talk, maybe smoke. 9/10.
What you've been saying about pubs:
Name: The Wynford Arms
Location: Reading

It appears the battle is over and the better man (or pub rather) won. Failing takings and queer goings on at all hours decreed the hour was nigh ...more


Name: The Talbot Inn
Location: Eynsham

An Arkell's Brewery pub that's worth a visit. I had a nice, hoppy pint of Arkell's Moonlight, in this case from one of the barrels at the ...more


Name: The Vine Tree
Location: Wakefield

UPDATE. Building work at the Vine Tree and planning app for kitchen and large dining room so may be making a comeback but possibly as a restaurant?


Name: The Victoria Hotel
Location: Outwood

Fairly popular pub, regulars. Went late afternoon and atmosphere good with regulars round bar. No sign of food at time of visit.

Drinkers pub. Recent new tenants. May be still settling in but a bit rough and ready but comfortable atmosphere. No food.


Name: The Woodman Inn
Location: Wakefield

Went a week or two ago at lunch-time and ate. Food excellent, can highly recommend. Has had recent refurb, tap room now opened up to create single ...more

Have been going here infrequently for several years and have always enjoyed the place. Could be because we tend to go mid afternoon. Generally not ...more


Name: The Valentine
Location: Ilford

I was thrown out of this pub for discreetly giving another customer with whom I was chatting, a Green Party newsletter. I explained that I was not ...more


Name: The Horse and Farrier
Location: Otley

We were only people in when we arrived(14.00 Friday 29/05/15) but warmly welcomed and barman helpful regarding cask beers. Good selection on. ...more


Name: The Bowling Green in Otley
Location: Otley

One of the quainter and more characterful Weatherspoons I have been in. Worth a visit but as with all Weatherspoons a shortage of ...more

As rated by beerintheevening.com users:
1
Name: The Blythe Hill Tavern - Location: Forest Hill
Address: 319 Stanstead Road, London, SE23 1JB
Rating:
7.9/10
2
Name: The Rose and Crown - Location: Huish Episcopi
Address: Huish Episcopi, Langport, Somerset, TA10 9QT
Rating:
7.9/10
3
Name: The Fernandes Brewery Tap and Bier Keller - Location: Wakefield
Address: The Old Malthouse, Avison Yard, Wakefield, West Yorkshire, WF1 1UA
Rating:
7.9/10
4
Name: The Star Inn - Location: Glossop
Address: 2 Howard Street, Glossop, Derbyshire, SK13 7DD
Rating:
7.9/10
5
Name: The Old Poet's Corner - Location: Ashover
Address: Butts Rd, Ashover, Chesterfield, Derbyshire, S45 0EW
Rating:
7.8/10
6
Name: The Lamplighter - Location: St Helier
Address: 9 Mulcaster Street, St Helier, Jersey, JE2 3NJ
Rating:
7.8/10
7
Name: The Coopers Tavern - Location: Burton-Upon-Trent
Address: 43 Cross Street, Burton-Upon-Trent, Staffordshire, DE14 1EG
Rating:
7.8/10
8
Name: The Narrow Boat - Location: Skipton
Address: 38, Victoria St, Skipton, North Yorkshire, BD23 1JE
Rating:
7.8/10
9
Name: The Halfway House - Location: Pitney
Address: Pitney Hill, Langport, Somerset, TA10 9AB
Rating:
7.8/10
10
Name: The Station Inn - Location: Whitby
Address: New Quay Road, Whitby, North Yorkshire, YO21 1DH
Rating:
7.7/10
11
Name: The Cherub Inn - Location: Dartmouth
Address: 13 Higher Street, Dartmouth, Devon, TQ6 9RB
Rating:
7.7/10
12
Name: The Kings Arms - Location: Tring
Address: King St, Tring, Hertfordshire, HP23 6BE
Rating:
7.7/10
13
Name: The Cardinals Hat - Location: Worcester
Address: 31, Friar St, Worcester, Worcestershire, WR1 2NA
Rating:
7.7/10
14
Name: The Nags Head - Location: Great Malvern
Address: 21, Bank Street, Great Malvern, Worcestershire, WR14 2JG
Rating:
7.7/10
15
Name: Sheffield Tap - Location: Sheffield
Address: Platform 1, Sheffield Station, Sheaf Street, Sheffield, South Yorkshire, S1 2BP
Rating:
7.7/10
16
Name: The Castle Inn - Location: West Lulworth
Address: Main Road, West Lulworth, Wareham, Dorset, BH20 5RN
Rating:
7.7/10
17
Name: The Orchard Inn - Location: Bristol
Address: 12 Hanover Place, Bristol, Bristol, BS1 6XT
Rating:
7.7/10
18
Name: Anvil - Location: Wigan
Address: Dorning Street, Wigan, Lancashire, WN1 1ND
Rating:
7.6/10
19
Name: The Half Moon - Location: Hitchin
Address: 57, Queen St, Hitchin, Hertfordshire, SG4 9TZ
Rating:
7.6/10
20
Name: The Golden Rule - Location: Ambleside
Address: Smithy Brow, Ambleside, Cumbria, LA22 9AS
Rating:
7.6/10
Recently added
The latest new pubs added by the BITE team:
Name: The Cosy Club - Location: Taunton
Address: 11 Corporation Street, Taunton, Somerset, TA1 4AJ
Rating:
6.0/10
Name: The Green Hops Real Ale Bar - Location: Billingham
Address: 55 The Green, Billingham, County Durham, TS23 1EW
Rating:
no rating
Name: The Courtyard - Location: Heswall
Address: 3 Pensby Road, Heswall, Wirral, Merseyside, CH60 7RA
Rating:
4.5/10
Name: Curio Lounge - Location: Stroud
Address: 9-11 Kings Street, Stroud, Gloucestershire, GL5 3BX
Rating:
6.0/10
Name: The Barrel Drop - Location: Nottingham
Address: 7 Hurts Yard, Nottingham, Nottinghamshire, NG1 6JD
Rating:
no rating
Name: Junkyard - Location: Nottingham
Address: 12 Bridlesmith Walk, Nottingham, Nottinghamshire, NG1 2FZ
Rating:
no rating
Name: Pie and Ale - Location: Manchester
Address: Unit 1 and 2 The Hive, Lever Street, Northern Quarter, Manchester, Manchester, M1 1FN
Rating:
4.0/10
Name: Ship Inn - Location: Wolviston
Address: 50 High Street, Wolviston, County Durham, TS22 5JX
Rating:
4.0/10
Name: Bonzo Lounge - Location: Keynsham
Address: 8-9 Market Walk, Keynsham, Gloucestershire, BS31 1ED
Rating:
no rating
Name: Cultivo Lounge - Location: Letchworth Garden City
Address: 32 Leys Avenue, Letchworth Garden City, Hertfordshire, SG6 3EW
Rating:
no rating