BEER... PUBS...

Welcome to beerintheevening.com
Officially the UK's biggest and busiest pub, bar and club guide!
Now listing over 43,500 venues, growing daily with over 1.5 million visitors on average each month* looking for somewhere to eat, drink and socialise! Looking for somewhere to go?
Get started here...
Licensee or venue operator? Your venue not listed or want to manage your listing?
Click here...
*According to Google Analytics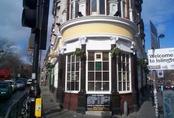 Random pub of the day for 17-4-2014:
Boston Arms, Tufnell Park
178 Junction Road, London, N19 5QQ
Latest comment about the Boston Arms:
A handler's lair.
What you've been saying about pubs:
Name: Howl at the Moon
Location: Hackney

A pub in Hoxton Street that probably once had a respectable name but hey, it's Hoxton. So the interior is cosy and comfortable and mixed ...more


Name: The Globe
Location: Baker Street

Big, roomy bar with plenty of staff providing quick, efficient service. Five beers on tap and not too dear for the West End. My vegetarian ...more


Name: The Elephants Head
Location: Camden

Long, airy bar with tiled floor and big windows. Two beers on hand pump: London Pride and an eponymous brew. As might be expected, a few ...more


Name: The Shakespeare's Head
Location: Holborn

Food arrived very quickly, despite pub being reasonably busy. Good choice of beer. The missus said the ladies were a work of art!


Name: Charles XII
Location: Heslington

This time I preferred the Deramore. The Charles XII's beer range was much more limited, and the service slow (not the staff's fault, there just ...more


Name: The Deramore Arms
Location: Heslington

Here for my annual visit to York University, dropped into the Heslington pubs of course. This time, for the first time ever, I preferred the ...more


Name: The Lamb and Flag
Location: Covent Garden

Another pub that I haven't been in for a very long time. I always liked the Lamb & Flag and my recent visit has not changed my mind, now a ...more

Made my first visit on Monday night after about 20 years. No longer a purely owned Dutch bar but now owned by Nicholsons. Most of the ...more


Name: Crown Inn
Location: Montgomery

Very much a local, less a tourist pub. small lounge as well as bar. Beer OK.


Name: The Three Tuns
Location: Bishops Castle

Impressive. Great ale from adjoining brewery. Especially liked the XXX. Food was excellent and prices reasonable. Bar staff could be a little more hospitable though.

As rated by beerintheevening.com users:
1
Name: The Fernandes Brewery Tap and Bier Keller - Location: Wakefield
Address: The Old Malthouse, Avison Yard, Wakefield, West Yorkshire, WF1 1UA
Rating:
8.4/10
2
Name: The Coopers Tavern - Location: Burton-Upon-Trent
Address: 43 Cross Street, Burton-Upon-Trent, Staffordshire, DE14 1EG
Rating:
8.4/10
3
Name: The Old Poet's Corner - Location: Ashover
Address: Butts Rd, Ashover, Chesterfield, Derbyshire, S45 0EW
Rating:
8.3/10
4
Name: The Station Inn - Location: Whitby
Address: New Quay Road, Whitby, North Yorkshire, YO21 1DH
Rating:
8.0/10
5
Name: The Blythe Hill Tavern - Location: Forest Hill
Address: 319 Stanstead Road, London, SE23 1JB
Rating:
7.8/10
6
Name: The Narrow Boat - Location: Skipton
Address: 38, Victoria St, Skipton, North Yorkshire, BD23 1JE
Rating:
7.8/10
7
Name: The Rose and Crown - Location: Huish Episcopi
Address: Huish Episcopi, Langport, Somerset, TA10 9QT
Rating:
7.8/10
8
Name: The Rifleman - Location: Twickenham
Address: Fourth Cross Rd, Twickenham, Middlesex, TW2 5EL
Rating:
7.8/10
9
Name: The Golden Rule - Location: Ambleside
Address: Smithy Brow, Ambleside, Cumbria, LA22 9AS
Rating:
7.8/10
10
Name: The Kings Arms - Location: Tring
Address: King St, Tring, Hertfordshire, HP23 6BE
Rating:
7.7/10
11
Name: Ye Olde Black Boy - Location: Hull
Address: 150, High Street, Hull, East Yorkshire, HU1 1PS
Rating:
7.7/10
12
Name: The Halfway House - Location: Pitney
Address: Pitney Hill, Langport, Somerset, TA10 9AB
Rating:
7.7/10
13
Name: The Sussex Arms - Location: Twickenham
Address: 15 Staines Road, Twickenham, Middlesex, TW2 5BG
Rating:
7.7/10
14
Name: The Cherub Inn - Location: Dartmouth
Address: 13 Higher Street, Dartmouth, Devon, TQ6 9RB
Rating:
7.7/10
15
Name: Plough - Location: Worcester
Address: 23 Fish Street, Worcester, Worcestershire, WR1 2HN
Rating:
7.7/10
16
Name: The Hope - Location: Carshalton
Address: 48 West St, Carshalton, Surrey, SM5 2PR
Rating:
7.7/10
17
Name: The Orchard Inn - Location: Bristol
Address: 12 Hanover Place, Bristol, Bristol, BS1 6XT
Rating:
7.7/10
18
Name: The Admiral Benbow - Location: Shrewsbury
Address: 24 Swanhill, Shrewsbury, Shropshire, SY1 1NF
Rating:
7.7/10
19
Name: Fanny's Ale And Cider House - Location: Saltaire
Address: 63, Saltaire Rd, Saltaire, Shipley, West Yorkshire, BD18 3JN
Rating:
7.7/10
20
Name: Leopold Tavern - Location: Southsea
Address: 154 Albert Road, Southsea, Portsmouth, Hampshire, PO4 0JT
Rating:
7.6/10
Recently added
The latest new pubs added by the BITE team:
Name: Royal British Legion - Location: Stratford Upon Avon
Address: 29 Bull Street, Stratford Upon Avon, Warwickshire, CV37 6DT
Rating:
no rating
Name: GNH Bar - Location: Kings Cross
Address: Pancras Road, Kings Cross, London, N1C 4TB
Rating:
no rating
Name: The Old Sessions House - Location: Knutsford
Address: 43 Princess Street, Knutsford, Cheshire, WA16 6BW
Rating:
no rating
Name: Beef and Pudding - Location: Manchester
Address: 37 Booth Street, Manchester, Manchester, M2 4AA
Rating:
no rating
Name: The Parcel Yard - Location: Kings Cross
Address: Unit 8 Shared Service Yard, Goods Way, Kings Cross, London, N1C 4AH
Rating:
no rating
Name: WM Hawkes - Location: Hull
Address: 32 Scale Lane, Hull, East Yorkshire, HU1 1LF
Rating:
no rating
Name: Royal British Legion - Location: Castleford
Address: 117 Powell Street, Castleford, West Yorkshire, WF10 1EL
Rating:
no rating
Name: The Pack Horse - Location: Leeds
Address: Packhorse Yard, Leeds, West Yorkshire, LS1 6AT
Rating:
no rating
Name: The Junction - Location: Castleford
Address: 109 Carlton Street, Castleford, West Yorkshire, WF10 1EE
Rating:
no rating
Name: Station Cafe Bar - Location: Dorridge
Address: 2 Station Road, Dorridge, West Midlands, B93 8JF
Rating:
no rating