BEER... PUBS...

Welcome to beerintheevening.com
Officially the UK's biggest and busiest pub and bar guide!
Now listing over 44,500 venues, it's the perfect place to look for somewhere to eat, drink and socialise!
Looking for somewhere to go?
Get started here...
Licensee or venue operator? Your venue not listed or want to manage your listing?
Click here...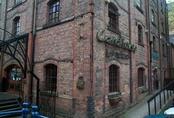 Random pub of the day for 31-8-2015:
Canal House, Nottingham
48-52 Canal Street, Nottingham, Nottinghamshire, NG1 7EH
Latest comment about Canal House:
What a great pub! Really welcoming and good beer from Castle Rock Brewery. Unusual building with a canal running through it. Food is excellent and decently priced. Tried the venison burger at just £8.95, really good!
What you've been saying about pubs:
A proper pub with a great atmosphere and great beer.


Name: The Woodman
Location: Birmingham

Sunday roast was excellent, range of beers was good once again. Having the new Eastside City Park next to it makes it even more accessible from the city centre. Recommended.


Name: The Dolphin Inn
Location: Hastings

A welcoming, popular and comfortable pub on the sea front with a decent mix of punters. Varied range of very well-kept ales (Harveys Best, Dark ...more


Name: The Lord Raglan
Location: Walthamstow

Run by a miserable fat old sweaty, watch him as he will gobble up your drinks! Awful Guinness and even worse service accompanied by a moody ...more


Name: The Mayfair Tavern
Location: Tooting

No frills Irish pub, literally everyone I spoke to had a broad Irish accent and seemed to hail from the old country. Drinks were reasonabley ...more


scarr

- 30 Aug 2015 23:39

Name: The Railway
Location: Birmingham

A fairly basic but nice enough pub, and showing a rugby match of such high quality I stayed for a couple of Pints of Pedigree (2.80). Efficient ...more


Name: The Old Contemptibles
Location: Birmingham

Absolutely heaving in the middle of a wet Saturday afternoon so it must be doing something right. The crowd consisted mostly of large partying ...more


Name: The Ram
Location: Kingston Upon Thames

Most expensive pub in Kingston - for no reason. Double (50 ml) Smirnoff with a dash of Coke - £7.50!!! £3 cheaper just down the road, towards the Centre...


Name: The Rising Sun
Location: Berkhamsted

Great pub by the canal. When we visited there was a beer festival in the back garden with 20 ales on offer - my Colchester ale was perfectly ...more


Name: The Crystal Palace
Location: Berkhamsted

I'm not quite sure why this pub has scored so badly. It's a cosy pub frequented by locals, which makes a change from the upmarket bars found in ...more

As rated by beerintheevening.com users:
1
Name: The Rose and Crown - Location: Huish Episcopi
Address: Huish Episcopi, Langport, Somerset, TA10 9QT
Rating:
7.9/10
2
Name: The Lamplighter - Location: St Helier
Address: 9 Mulcaster Street, St Helier, Jersey, JE2 3NJ
Rating:
7.9/10
3
Name: The Strathmore Arms - Location: St Pauls Walden
Address: London Rd, St Pauls Walden, Hitchin, Hertfordshire, SG4 8BT
Rating:
7.8/10
4
Name: The Old Poet's Corner - Location: Ashover
Address: Butts Rd, Ashover, Chesterfield, Derbyshire, S45 0EW
Rating:
7.8/10
5
Name: The Blythe Hill Tavern - Location: Forest Hill
Address: 319 Stanstead Road, London, SE23 1JB
Rating:
7.8/10
6
Name: The Narrow Boat - Location: Skipton
Address: 38, Victoria St, Skipton, North Yorkshire, BD23 1JE
Rating:
7.8/10
7
Name: The Cardinals Hat - Location: Worcester
Address: 31, Friar St, Worcester, Worcestershire, WR1 2NA
Rating:
7.8/10
8
Name: The Fernandes Brewery Tap and Bier Keller - Location: Wakefield
Address: The Old Malthouse, Avison Yard, Wakefield, West Yorkshire, WF1 1UA
Rating:
7.8/10
9
Name: The Halfway House - Location: Pitney
Address: Pitney Hill, Langport, Somerset, TA10 9AB
Rating:
7.8/10
10
Name: The Cherub Inn - Location: Dartmouth
Address: 13 Higher Street, Dartmouth, Devon, TQ6 9RB
Rating:
7.7/10
11
Name: The Kings Arms - Location: Tring
Address: King St, Tring, Hertfordshire, HP23 6BE
Rating:
7.7/10
12
Name: The Station Inn - Location: Whitby
Address: New Quay Road, Whitby, North Yorkshire, YO21 1DH
Rating:
7.7/10
13
Name: The Castle Inn - Location: West Lulworth
Address: Main Road, West Lulworth, Wareham, Dorset, BH20 5RN
Rating:
7.7/10
14
Name: Sheffield Tap - Location: Sheffield
Address: Platform 1, Sheffield Station, Sheaf Street, Sheffield, South Yorkshire, S1 2BP
Rating:
7.7/10
15
Name: The Golden Rule - Location: Ambleside
Address: Smithy Brow, Ambleside, Cumbria, LA22 9AS
Rating:
7.7/10
16
Name: The Orchard Inn - Location: Bristol
Address: 12 Hanover Place, Bristol, Bristol, BS1 6XT
Rating:
7.7/10
17
Name: The Coopers Tavern - Location: Burton-Upon-Trent
Address: 43 Cross Street, Burton-Upon-Trent, Staffordshire, DE14 1EG
Rating:
7.7/10
18
Name: Cloisters Bar - Location: Edinburgh
Address: 26, Brougham St, Edinburgh, Midlothian, EH3 9JH
Rating:
7.6/10
19
Name: The Kings Head - Location: Norwich
Address: 42, Magdalen St, Norwich, Norfolk, NR3 1JE
Rating:
7.6/10
20
Name: The Blisland Inn - Location: Blisland
Address: Blisland, Bodmin, Cornwall, PL30 4JF
Rating:
7.6/10
Recently added
The latest new pubs added by the BITE team:
Name: The Inn of Court - Location: Holborn
Address: 18 Holborn, Holborn, London, EC1N 2LE
Rating:
no rating
Name: The Gipsy Queen - Location: Kentish Town
Address: 166 Maiden Road, Kentish Town, London, NW5 4BS
Rating:
no rating
Name: The Balnoon Inn - Location: Balnoon
Address: Old Coach Road, Balnoon, St Ives, Cornwall, TR26 3JB
Rating:
9.0/10
Name: The White Horse - Location: Barnstaple
Address: 29 Boutport Street, Barnstaple, Devon, EX31 1RP
Rating:
no rating
Name: The Lounge Bar - Location: Tipton
Address: 4 Market Place, Tipton, West Midlands, DY4 7EJ
Rating:
no rating
Name: The Top Star - Location: Tipton
Address: 178 Horseley Heath, Great Bridge, Tipton, West Midlands, DY4 7DS
Rating:
2.0/10
Name: The Olde Jack - Location: Calverhall
Address: Bletchley Road, Calverhall, Cheshire, SY13 4PA
Rating:
no rating
Name: Brewery House - Location: Harrington
Address: Main Road, Harrington, Cumbria, CA14 5PF
Rating:
no rating
Name: The Purple Pig - Location: Hull
Address: 10 King Street, Hull, East Yorkshire, HU1 2JJ
Rating:
no rating
Name: Crossways Micropub - Location: Blythe Bridge
Address: 246 Uttoxeter Road, Blythe Bridge, Staffordshire, ST11 9LY
Rating:
5.5/10