BEER... PUBS...

Welcome to beerintheevening.com
Officially the UK's biggest and busiest pub and bar guide!
Now listing over 43,500 venues, it's the perfect place to look for somewhere to eat, drink and socialise!
Looking for somewhere to go?
Get started here...
Licensee or venue operator? Your venue not listed or want to manage your listing?
Click here...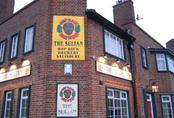 Random pub of the day for 2-10-2014:
Sultan, South Wimbledon
78, Norman Rd, Wimbledon, London, SW19 1BN
Latest comment about the Sultan:
This pub can be a bit of a walk to get to but it is worth it. You are best work out your own route using an online journey planner. It is NOT hard to get to! The beers are always in great condition. Smokers have a really nice beer garden with Brumbrella out the back. Toilets are very clean. Children welcome. The staff engaged the regulars (I am not a regular, nor a talker!) in conversation. They looked like very pleasant staff. The furniture looked very new, but it fitted in with its surroundings. I go here to have fantastic beer while doing the Saturday/Sunday newspaper crosswords. The free wifi helps!
What you've been saying about pubs:
Name: The Bradstow Mill
Location: Broadstairs

A handy pub for the station but not one I would want to stay in too long unless there was a decent band on or a good match on the TV. The beer ...more


Name: The Hovelling Boat Inn
Location: Ramsgate

More lively than some micro pubs though the beer quality wasn't as good as a few I've been to. The Oakley gold ale was the best on offer. The ...more

Regular winner of Camra's local pub of the year award and deservedly so too! The day I was there they had Gadd's 7, Loddens Ferrymans Gold, ...more


Name: The Bakers
Location: Basingstoke

Training on how to pull a hand pump beer is essential. I will be looking.


Name: The Castle
Location: Basingstoke

The Castle pub in Basingstoke was shamefully named 'Poison' The pub has now been demolished to make way for re-development so no sign of it is there.


Name: The Bass House
Location: Basingstoke

There is no pub here, it has been a Tesco for a few years.


Name: The Hammer and Tongs
Location: Basingstoke

It has gone.


Name: Prince of Wales
Location: Shippon

Now under new management. Website www.princeofwalesshippon.co.uk


Name: The Greyhound
Location: Hendon

A few years since I last called in. Smart and sensitive return. Ales well-kept and a wider rangevthan previously. Very much a locals pub for locals. 6/10.


Name: New Zealand Arms
Location: Derby

Thought I'd let you folks know that I've now sampled the food here. It is pretty much a standard "pub grub" menu, but with an emphasis on ...more

As rated by beerintheevening.com users:
1
Name: The Old Poet's Corner - Location: Ashover
Address: Butts Rd, Ashover, Chesterfield, Derbyshire, S45 0EW
Rating:
8.1/10
2
Name: The Nags Head - Location: Great Malvern
Address: 21, Bank Street, Great Malvern, Worcestershire, WR14 2JG
Rating:
8.1/10
3
Name: The Coopers Tavern - Location: Burton-Upon-Trent
Address: 43 Cross Street, Burton-Upon-Trent, Staffordshire, DE14 1EG
Rating:
8.0/10
4
Name: The Station Inn - Location: Whitby
Address: New Quay Road, Whitby, North Yorkshire, YO21 1DH
Rating:
8.0/10
5
Name: Our Mutual Friend - Location: Stevenage
Address: Broadwater Crescent, Stevenage, Hertfordshire, SG2 8EH
Rating:
7.9/10
6
Name: The Rose and Crown - Location: Huish Episcopi
Address: Huish Episcopi, Langport, Somerset, TA10 9QT
Rating:
7.8/10
7
Name: The Narrow Boat - Location: Skipton
Address: 38, Victoria St, Skipton, North Yorkshire, BD23 1JE
Rating:
7.8/10
8
Name: The Sussex Arms - Location: Twickenham
Address: 15 Staines Road, Twickenham, Middlesex, TW2 5BG
Rating:
7.8/10
9
Name: The Golden Rule - Location: Ambleside
Address: Smithy Brow, Ambleside, Cumbria, LA22 9AS
Rating:
7.8/10
10
Name: The Halfway House - Location: Pitney
Address: Pitney Hill, Langport, Somerset, TA10 9AB
Rating:
7.8/10
11
Name: The Orchard Inn - Location: Bristol
Address: 12 Hanover Place, Bristol, Bristol, BS1 6XT
Rating:
7.7/10
12
Name: The Kings Arms - Location: Tring
Address: King St, Tring, Hertfordshire, HP23 6BE
Rating:
7.7/10
13
Name: The Cherub Inn - Location: Dartmouth
Address: 13 Higher Street, Dartmouth, Devon, TQ6 9RB
Rating:
7.7/10
14
Name: The Blythe Hill Tavern - Location: Forest Hill
Address: 319 Stanstead Road, London, SE23 1JB
Rating:
7.7/10
15
Name: Ye Olde Black Boy - Location: Hull
Address: 150, High Street, Hull, East Yorkshire, HU1 1PS
Rating:
7.7/10
16
Name: The Fernandes Brewery Tap and Bier Keller - Location: Wakefield
Address: The Old Malthouse, Avison Yard, Wakefield, West Yorkshire, WF1 1UA
Rating:
7.7/10
17
Name: The Anchor and Hope - Location: Charlton
Address: 2, Riverside Walk, Anchor and Hope Lane, London, SE7 7SS
Rating:
7.7/10
18
Name: The Birkbeck Tavern - Location: Leyton
Address: 45, Langthorne Rd, London, E11 4HL
Rating:
7.7/10
19
Name: The Lamplighter - Location: St Helier
Address: 9 Mulcaster Street, St Helier, Jersey, JE2 3NJ
Rating:
7.6/10
20
Name: The Rat and Ratchet - Location: Huddersfield
Address: 40 Chapel Hill, Huddersfield, West Yorkshire, HD1 3EB
Rating:
7.6/10
Recently added
The latest new pubs added by the BITE team:
Name: The Robin Hood Inn - Location: Penrith
Address: 51 King Street, Penrith, Cumbria, CA11 7AY
Rating:
no rating
Name: The Cosy Club - Location: Bath
Address: 20 Southgate Place, Bath, Somerset, BA1 1AP
Rating:
no rating
Name: Bowling Green - Location: Nantwich
Address: The Gullet, Nantwich, Cheshire, CW5 6DN
Rating:
5.0/10
Name: Yard of Ale - Location: Broadstairs
Address: 61 Church Street, Broadstairs, Kent, CT10 2TU
Rating:
no rating
Name: Badger - Location: Church Minshull
Address: Cross Lane, Church Minshull, Cheshire, CW5 6DY
Rating:
7.0/10
Name: The Waterloo Tavern - Location: Ashton under Lyne
Address: 490-492 Oldham Road, Ashton under Lyne, Lancashire, OL7 9QH
Rating:
4.0/10
Name: The Dog Beck - Location: Penrith
Address: 21-22 Southend Road, Penrith, Cumbria, CA11 8JH
Rating:
no rating
Name: The New Inns - Location: Brewood
Address: Kiddemore Green Road, Kiddemore Green, Brewood, Staffordshire, ST19 9BH
Rating:
4.5/10
Name: Hop and Vine - Location: St Austell
Address: Market Street, St Austell, Cornwall, PL25 4BB
Rating:
no rating
Name: Halfway House - Location: Ashton under Lyne
Address: 123 Whiteacre Road, Ashton under Lyne, Lancashire, OL6 9PS
Rating:
4.0/10