BEER... PUBS...

Welcome to beerintheevening.com
Officially the UK's biggest and busiest pub and bar guide!
Now listing over 43,500 venues, it's the perfect place to look for somewhere to eat, drink and socialise!
Looking for somewhere to go?
Get started here...
Licensee or venue operator? Your venue not listed or want to manage your listing?
Click here...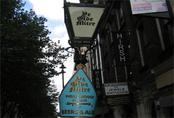 Random pub of the day for 20-12-2014:
Ye Old Mitre, Holborn
1 Ely Court, Ely Place, Holborn, London, EC1N 6SJ
Latest comment about Ye Old Mitre:
First time you go here you think it is something special mainly because of where it is but on subsequent visits it's okay, does a decent pit but there are better pubs (even in the City).
What you've been saying about pubs:
Name: The Olde Vic
Location: Stockport

Visited on a Friday night after much hype from friends. The beer selection available that evening didn't blow me away as expected from the hype. ...more


Name: Eastgate
Location: Chichester

Had a very enjoyable swift drink here during recent visit. A friendly welcome and a warm atmosphere (literally!) in this locals' pub. Also rather liked the unspoilt decor.

Today Friday 19th December after i had finish Work i went and got the Bus to the Red Lion and when i arived i went up to the Bar and Amy Took my ...more


Name: The Carpenters Arms
Location: Loughton

This is the dirtiest smelliest most disgusting pub I have ever been to so dark and dingy and it seemed every single person in the pub was on ...more


Name: The Crown Inn
Location: Wentnor

Came to this pub for two reasons - read about it in an Interview with Wonderstuff Front Man - Miles Hunt. Its his local and he painted a ...more


Name: The Old Joint Stock
Location: Birmingham

Yeah - noticed the prices. Due to the evening crowds on the Thursday before XMAS, we doubled up on our rounds. 2xESB and a Large VAT provided ...more


Name: Bacchus
Location: Birmingham

In the Birmingham Mail top 10 bars in Birmingham to visit. I simply cannot believe that I have not been here before. Tucked down below a ...more


Name: The Coal Hole
Location: Strand

Nothing really to make this place stand out from a thousand other pubs. Everything was OK with my visit and it served a purpose.


Name: Ye Olde Cheshire Cheese
Location: Fleet Street

A must experience london pub - especially on a winter's night, where the roaring fire and dark wood add a certain dickensian feel to the ...more


Name: The Nelson Hotel
Location: Littlehampton

On a recent visit with my drinking buddy to Littlehampton, we went to all the pubs we could find, sadly does not seem to be that many left open, ...more

As rated by beerintheevening.com users:
1
Name: The Blythe Hill Tavern - Location: Forest Hill
Address: 319 Stanstead Road, London, SE23 1JB
Rating:
8.1/10
2
Name: The Station Inn - Location: Whitby
Address: New Quay Road, Whitby, North Yorkshire, YO21 1DH
Rating:
8.0/10
3
Name: The Old Poet's Corner - Location: Ashover
Address: Butts Rd, Ashover, Chesterfield, Derbyshire, S45 0EW
Rating:
8.0/10
4
Name: The Nags Head - Location: Great Malvern
Address: 21, Bank Street, Great Malvern, Worcestershire, WR14 2JG
Rating:
7.9/10
5
Name: The Narrow Boat - Location: Skipton
Address: 38, Victoria St, Skipton, North Yorkshire, BD23 1JE
Rating:
7.9/10
6
Name: The Rose and Crown - Location: Huish Episcopi
Address: Huish Episcopi, Langport, Somerset, TA10 9QT
Rating:
7.8/10
7
Name: The Golden Rule - Location: Ambleside
Address: Smithy Brow, Ambleside, Cumbria, LA22 9AS
Rating:
7.8/10
8
Name: The Fernandes Brewery Tap and Bier Keller - Location: Wakefield
Address: The Old Malthouse, Avison Yard, Wakefield, West Yorkshire, WF1 1UA
Rating:
7.8/10
9
Name: The Halfway House - Location: Pitney
Address: Pitney Hill, Langport, Somerset, TA10 9AB
Rating:
7.8/10
10
Name: The Coopers Tavern - Location: Burton-Upon-Trent
Address: 43 Cross Street, Burton-Upon-Trent, Staffordshire, DE14 1EG
Rating:
7.8/10
11
Name: Our Mutual Friend - Location: Stevenage
Address: Broadwater Crescent, Stevenage, Hertfordshire, SG2 8EH
Rating:
7.7/10
12
Name: The Cherub Inn - Location: Dartmouth
Address: 13 Higher Street, Dartmouth, Devon, TQ6 9RB
Rating:
7.7/10
13
Name: The Kings Arms - Location: Tring
Address: King St, Tring, Hertfordshire, HP23 6BE
Rating:
7.7/10
14
Name: The Sussex Arms - Location: Twickenham
Address: 15 Staines Road, Twickenham, Middlesex, TW2 5BG
Rating:
7.7/10
15
Name: Ye Olde Black Boy - Location: Hull
Address: 150, High Street, Hull, East Yorkshire, HU1 1PS
Rating:
7.7/10
16
Name: The Birkbeck Tavern - Location: Leyton
Address: 45, Langthorne Rd, London, E11 4HL
Rating:
7.7/10
17
Name: The Lamplighter - Location: St Helier
Address: 9 Mulcaster Street, St Helier, Jersey, JE2 3NJ
Rating:
7.7/10
18
Name: The Orchard Inn - Location: Bristol
Address: 12 Hanover Place, Bristol, Bristol, BS1 6XT
Rating:
7.7/10
19
Name: The Hope - Location: Carshalton
Address: 48 West St, Carshalton, Surrey, SM5 2PR
Rating:
7.6/10
20
Name: Cloisters Bar - Location: Edinburgh
Address: 26, Brougham St, Edinburgh, Midlothian, EH3 9JH
Rating:
7.6/10
Recently added
The latest new pubs added by the BITE team:
Name: The Old Fountain - Location: Old Street
Address: 3 Baldwin Street, Old Street, London, EC1V 9NU
Rating:
7.5/10
Name: Foundry 34 - Location: Penrith
Address: 34 Burrowgate, Penrith, Cumbria, CA11 7TA
Rating:
no rating
Name: The Robin Hood Inn - Location: Penrith
Address: 51 King Street, Penrith, Cumbria, CA11 7AY
Rating:
no rating
Name: The Cosy Club - Location: Bath
Address: 20 Southgate Place, Bath, Somerset, BA1 1AP
Rating:
no rating
Name: Bowling Green - Location: Nantwich
Address: The Gullet, Nantwich, Cheshire, CW5 6DN
Rating:
5.0/10
Name: Yard of Ale - Location: Broadstairs
Address: 61 Church Street, Broadstairs, Kent, CT10 2TU
Rating:
5.0/10
Name: Badger - Location: Church Minshull
Address: Cross Lane, Church Minshull, Cheshire, CW5 6DY
Rating:
7.0/10
Name: The Waterloo Tavern - Location: Ashton under Lyne
Address: 490-492 Oldham Road, Ashton under Lyne, Lancashire, OL7 9QH
Rating:
3.5/10
Name: The Dog Beck - Location: Penrith
Address: 21-22 Southend Road, Penrith, Cumbria, CA11 8JH
Rating:
no rating
Name: The New Inns - Location: Brewood
Address: Kiddemore Green Road, Kiddemore Green, Brewood, Staffordshire, ST19 9BH
Rating:
5.6/10