BEER... PUBS...

Welcome to beerintheevening.com
Officially the UK's biggest and busiest pub and bar guide!
Now listing over 45,000 venues, it's the perfect place to look for somewhere to eat, drink and socialise! Looking for somewhere to go?
Get started here...
Licensee or venue operator? Your venue not listed or want to manage your listing?
Click here...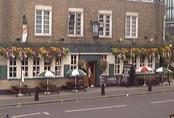 Random pub of the day for 21-3-2018:
Royal George, Euston
8-14 Eversholt St, London, NW1 1DG
Latest comment about the Royal George:
Have been coming in here on and off for years mainly to watch sport; has always probably as right next to Euston station been pretty busy down the years for Liverpool games (my team). It has tidied itself up somewhat down the years. Less scruffy and probably less rowdy/loud as well. The beer quality has also improved quite a lot down the years. Always been happy with the service in here as well. That said I am surprised it is in the GBG as well. Beer quality is reasonable, and range OK in my view; neither are amazing though. I also can't go above 6/10 as the prices are I agree taking the piss now for the sort of pub this is. Doric Arch and Bree Louise are certainly better pubs in the area; for the sport/football to me it's a 50/50 between here and the Euston Flyer (which is no cheaper really beer price wise than here) in the area.
What you've been saying about pubs:
Can't believe that nobody has reviewed this'boozer' for nearly five years and all the money spent on it's re-vamp. In a nutshell , to walk in and ...more

This is now called the Kings head and although it does have a chainy-wetherspoony feel to it they do sell a decent pint.


Name: The Prince of Wales Ale House
Location: Highgate

Interesting to read GerryL's Feb 2018 post - this was one of my favorite local pubs for many years while resident in Highgate. However for a good ...more

Found it very similar to last visit - plenty of good ales on but can be a bit dog eat dog getting served (he or should I say ...more


Name: The Mitre
Location: Knaresborough

decent pint of Leeds Pale and a reasonable if a tad faux pub. As mentioned handy for the station.


Name: Cross Keys
Location: Knaresborough

Sometimes it is little things that distinguish a place as being a decent alehouse. Apart from the fact the beer was good here the lady behind the ...more


Name: Market Tavern
Location: Knaresborough

Main change from the last comment is that there is no ale on offer (ended up on the Amstel). Staff and clientele were quite friendly.


Name: The George
Location: Easingwold

Has something of a hotel bar feel without really being a hotel bar - ale was good for what it was (Taylors Boltmaker). Anyone who is an aficionado ...more

Well worn old pub serving decent ale with staff who take an interest in the ale and customers. Only slight gripe is that all four ales on were blonde-ish.


Name: Oak and Saw
Location: Taplow

The last remaining "proper" pub in Taplow, the Oak and Saw is named after devices in the Earl of Orkney's coat of arms and was converted ...more

As rated by beerintheevening.com users:
1
Name: The Cuckoo Inn - Location: Hamptworth
Address: Hamptworth, Salisbury, Wiltshire, SP5 2DU
Rating:
8.4/10
2
Name: The Fleece Inn - Location: Bretforton
Address: The Cross, Bretforton, Evesham, Worcestershire, WR11 7JE
Rating:
8.4/10
3
Name: The Jolly Angler - Location: Manchester
Address: 47 Ducie Street, Ancoats, Manchester, M1 2JW
Rating:
8.1/10
4
Name: The Old Poet's Corner - Location: Ashover
Address: Butts Rd, Ashover, Chesterfield, Derbyshire, S45 0EW
Rating:
8.1/10
5
Name: The Stanley Arms - Location: Portslade
Address: 47 Wolseley Rd, Portslade, Brighton, East Sussex, BN41 1SS
Rating:
8.1/10
6
Name: The Old Fire House - Location: Exeter
Address: 50 New North Road, Exeter, Devon, EX4 4EP
Rating:
8.0/10
7
Name: The Admiral Benbow - Location: Penzance
Address: 46, Chapel St, Penzance, Cornwall, TR18 4AF
Rating:
8.0/10
8
Name: The Blythe Hill Tavern - Location: Forest Hill
Address: 319 Stanstead Road, London, SE23 1JB
Rating:
7.8/10
9
Name: The Snickleway Inn - Location: York
Address: 47, Goodramgate, York, North Yorkshire, YO1 7LS
Rating:
7.8/10
10
Name: The Fox and Goose - Location: Hebden Bridge
Address: 9 Heptonstall Road, Hebden Bridge, West Yorkshire, HX7 6AZ
Rating:
7.8/10
11
Name: The Lamplighter - Location: St Helier
Address: 9 Mulcaster Street, St Helier, Jersey, JE2 3NJ
Rating:
7.8/10
12
Name: The Rose and Crown - Location: Huish Episcopi
Address: Huish Episcopi, Langport, Somerset, TA10 9QT
Rating:
7.7/10
13
Name: Sheffield Tap - Location: Sheffield
Address: Platform 1, Sheffield Station, Sheaf Street, Sheffield, South Yorkshire, S1 2BP
Rating:
7.7/10
14
Name: The Station Inn - Location: Whitby
Address: New Quay Road, Whitby, North Yorkshire, YO21 1DH
Rating:
7.7/10
15
Name: The Golden Rule - Location: Ambleside
Address: Smithy Brow, Ambleside, Cumbria, LA22 9AS
Rating:
7.7/10
16
Name: The Rat and Ratchet - Location: Huddersfield
Address: 40 Chapel Hill, Huddersfield, West Yorkshire, HD1 3EB
Rating:
7.7/10
17
Name: The Narrow Boat - Location: Skipton
Address: 38, Victoria St, Skipton, North Yorkshire, BD23 1JE
Rating:
7.7/10
18
Name: The Great Western - Location: Wolverhampton
Address: Sun Street, Wolverhampton, West Midlands, WV10 0DJ
Rating:
7.7/10
19
Name: The Kings Head - Location: Norwich
Address: 42, Magdalen St, Norwich, Norfolk, NR3 1JE
Rating:
7.6/10
20
Name: The Coopers Tavern - Location: Burton-Upon-Trent
Address: 43 Cross Street, Burton-Upon-Trent, Staffordshire, DE14 1EG
Rating:
7.6/10
Recently added
The latest new pubs added by the BITE team:
Name: The Paul Pry - Location: Worcester
Address: 6 The Butts, Worcester, Worcestershire, WR1 3PA
Rating:
5.8/10
Name: The Talbot Inn - Location: Welshpool
Address: 16 High Street, Welshpool, Powys, SY21 7JP
Rating:
4.8/10
Name: Love and Rockets - Location: Aigburth
Address: 52 Lark Lane, Aigburth, Liverpool, Merseyside, L17 8UU
Rating:
no rating
Name: The Brook - Location: Worcester Park
Address: 181 Central Road, Worcester Park, Surrey, KT4 8DR
Rating:
no rating
Name: Towcester Mill Brewery Tap Room - Location: Towcester
Address: Chantry Lane, Towcester, Northamptonshire, NN12 6AD
Rating:
no rating
Name: Blackfriars - Location: Edinburgh
Address: 57-61 Blackfriars Street, Edinburgh, Midlothian, EH1 1NB
Rating:
no rating
Name: The Meridian Bier Cafe - Location: Ayr
Address: 2 Killoch Place, Ayr, Ayrshire, KA7 2EA
Rating:
no rating
Name: The Turks Head - Location: Leeds
Address: Turks Head Yard, Leeds, West Yorkshire, LS1 6HB
Rating:
no rating
Name: Black Swan - Location: Alnwick
Address: 26 Narrowgate, Alnwick, Northumberland, NE66 1JG
Rating:
no rating
Name: The Milk House - Location: Sissinghurst
Address: The Street, Sissinghurst, Kent, TN17 2JG
Rating:
no rating